Website Accessibility Solutions for ADA Compliance
Your website's accessibility is more important than ever, and our team at Nehmedia is ready with solutions to quickly analyze and upgrade your website for ADA Compliance.
Research indicates that 97% of consumers search for local businesses online and more than half of consumers conduct transactions and make decisions about a business based on its website. It's clear that your website's design, development and maintenance are crucial components of your digital presence.
Plus, prioritizing the removal of any barriers to access on your website is the best way to reach and serve your customers, in addition to guarding against potentially expensive lawsuits. We have seen a recent increase in lawsuit activity targeting small and medium-sized businesses that are out of compliance with the newest ADA and WCAG standards. Our experience shows that it is better (and cheaper) to be proactive rather than reactive.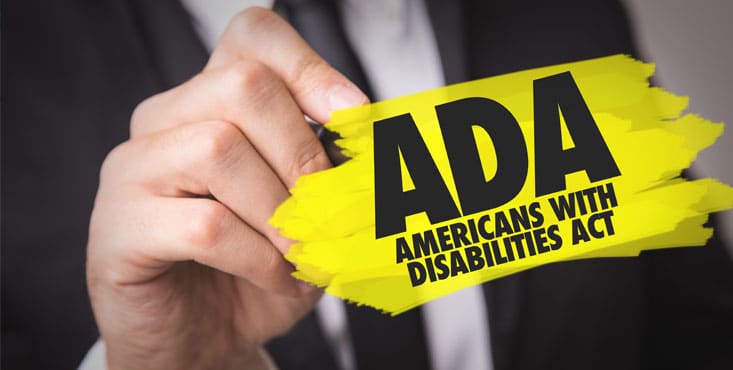 Contact us today to find out how to make your website more accessible.
In the United States, one in four adults lives with a disability that impacts major life activities, according to the CDC. That's 61 million Americans, or 26% of our population.
A disability can be simply defined as a mismatch between a person and their environment, and the condition may be temporary or permanent. When a person isn't able to do something, their disability becomes an impairment – impacting their ability to perceive, understand, navigate, interact with, and contribute to your website and other digital properties.
The Americans with Disabilities Act (ADA) was passed in 1990 to prohibit discrimination against people with disabilities. Title III of the ADA, which prohibits "places of public accommodations … from disability-based discrimination," is the portion of the law most often associated with websites, apps and other business technology.
The standards for website accessibility used by the Department of Justice are defined by the Web Content Accessibility Guidelines (WCAG), which direct all online content to be:
Perceivable

Operable

Understandable

Robust
Our experienced team understands the nuances of the accessibility landscape and will make recommendations specific to your website. Instead of adding thousands of dollars to initial development costs, we have found a reliable and more cost-effective way to upgrade your current site. This solution was developed by a company called UserWay and can be quickly implemented for compliance with ADA and WCAG standards. We have negotiated a discount to use their technology on our clients' websites and want to pass those savings on to you.

Contact us today to find out how to make your website more accessible.