To make an impact with social media, you need a good mix of content that extends your brand awareness, increases engagement with your followers and drives visitors to your website, phones, and front door.
Social media is a crucial component of your online visibility. Our confidence in knowing what, where and how often to post on social media comes from our years of experience, data-driven research, evaluation of insights and metrics and constant monitoring of industry trends. We can help you identify and reach your target audience and build trust around your brand — all with the goal of extending your reach and ultimately growing your business.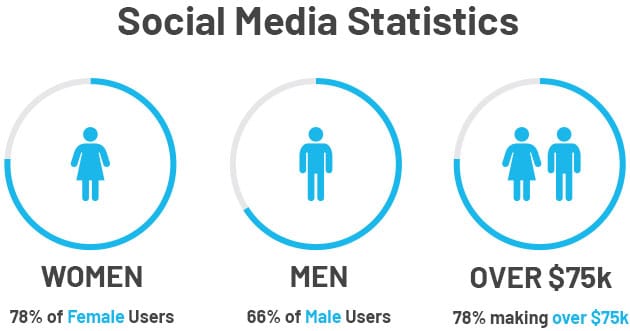 According to a recent Pew Research study, social media use has increased from just 5% of American adults in 2005 to at least 72% today.
Effective content marketing includes multiple layers:
Informative, educational messages that further establish your business as a trusted authority and reinforce your status as an industry expert
A strategic combination of static posts, stories, Reels and longer videos
Storytelling that draws people in and compels them to know more about your brand and your mission to support their needs and desires
Ready to Make a Connection?
Paid media is another important component and can be very cost-effective. We can help you decide when to boost your popular posts for increased visibility. Many people don't realize that only about 6% of your followers will see any given post. Paying to boost your posts on a regular basis will reach more of your committed followers and a much wider range of potential clients.
Finding time to create multiple posts for multiple purposes for multiple days and weeks each month is not easy. We can help! Our team has developed proven processes for content creation, and we can work with you to generate ideas for developing an editorial calendar. When you have a plan to follow and can work ahead, the task and achieving effective results gets a lot easier.
Don't resort to random acts of marketing, with no strategy or timeline to follow. Get in touch with Nehmedia today so we can work with you to develop a cohesive plan for using your social media channels to their fullest potential.
While the rules are constantly evolving, the opportunities for influence and impact are limited only by your imagination.